Pirate Ship Tours
Seek Adventure and Find Lost Treasure!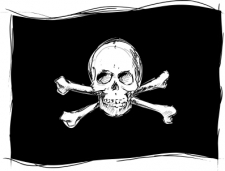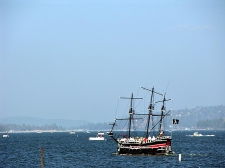 Set sail aboard Big Bear's only Pirate Ship!
The Big Bear Pirate Ship is a must visit each time you are in Big Bear Lake. We offer daily tours of the lake featuring live entertainment, and our own authentic Pirates. The lake tours can be, and often are different each time. Each captain who drives the ship has their own personality and style, and you always get a fantastic tour around the lake.
Call for information or charter bookings:
(909) 878-4040
What is Time Bandit?
Time Bandit, the Big Bear Lake Pirate Ship, is a 1/3rd scale replica of a Spanish Galleon and was built by a Father and his Son from the late 60's through the 70's in their back yard. It was then used in the 1981 release "Time Bandit." Later it was used as a tour boat in LA Harbor, and Newport Beach at the Fun Zone.
The last part of the Ship's life at the ocean was as a private residence. Then it was purchased by Ed & Kelly Kinsley, refurbished, modified a bit to include more passengers, and moved to Big Bear Lake to operate as a tour boat. It took 28 different permits and 2.5 days to transport the Ship from Dana Point Boatyard to Holloway's Marina where it is presently berthed!
Current Rates (subject to seasonal change)
Adult: $19
Child 12 and under: $12
We accept M/C, Visa, and American Express (and, of course, cash).
Times
Tours are approximately 90 minutes.
We have a guaranteed tour every day at 2pm.
Other tours may go out at 10am, 12noon, 4pm and 6pm.
Where to go
The Time Bandit is docked at Holloway's Marina, 398 Edgemoor Rd., Big Bear Lake. Directions »
Private Tours / Chartering
The Time Bandit is also available for private parties, weddings, kid's birthday parties, overnight charters and film production.
The Ship charters out privately for $195/hr with a two hour minimum. It holds 25 persons on board and we have pontoon boats that can tie along side to add capacity at the rate of 12 persons per pontoon boat. Call for more information.
Reservations
Call for additional information or charter bookings: (909) 878-4040
---